Demand Creation Activities
The demand creation activities continued in Greater Kumasi with door-to-door sensitization by
household toilet teams and joint sensitization by all the Assemblies at the 2023 Independence Day
celebration in the Ashanti Region. Other promotional activities included MMAs enforcement of
the Assembly's by-laws through the issuance of notices and summons to households without toilets
facilities, promotion of improved hygiene through early morning (dawn) and evening broadcasts
of demand creation messages in the communities and regular education/sensitization in Mosques
and Churches across the eight Assemblies. The number of summonses issued, churches/mosques
visited, and the individuals registered during the MMAs demand creation activities over the period
is detailed in the table below.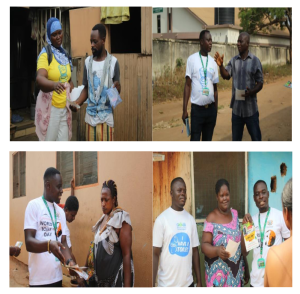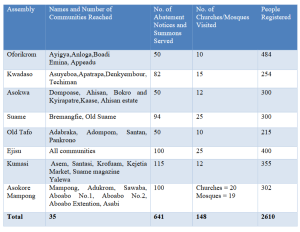 GKMA Household Toilet Team building Jamboree 'Operation 15,000 Toilets' 2023.'
The Project Coordinating Unit (PCU) organized an outdoor team-building event for all GKMA
household Toilet promotion and demand creating teams to drive competition among the project
participating MMAs motivate and to instill fresh energy in the teams to up their household toilet
demand creation efforts with the view of working towards achieving the project 2023 target
providing 15,000 household toilets in 2023. The 'Jamboree' which was dubbed 'Operation 15,000
household Toilets in 2023' was actively participated by the MCEs, MCDs, Environmental Health
Officers, Community Development Officers, Assembly Members, and administrative staffs from
the eight GKMA Assemblies.
Included in the Jamboree event's activities were the MMAs competing for football, table tennis,
musical chairs, Ludu, and other games. It is anticipated that the jamboree festival will encourage
the assemblies to work even harder toward the goal of constructing 30,000 household toilets in
GKMA by the end of 2024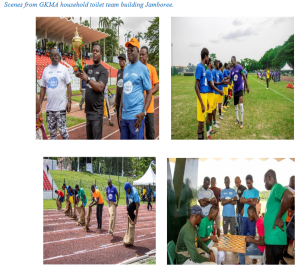 Mass Media Visibility Activities
As part of efforts to increase the Project's visibility in the media, the Project Coordination Unit
(PCU) participated in an interactive one-hour television talk show (GTV). The one-hour
program featured a preview of a twenty-minute documentary on the impacts of various aspects
of the project, as well as an interview conducted by the show's hostess. During the Program's
phone-in session, participants from various regions of the country called in. Intriguingly, one
of these callers was a project beneficiary who testified about the positive hygiene impact the
project had on his life and encouraged other viewers of the show to purchase a toilet from the
Project if they do not already have one.
The link for show: https://fb.watch/jxl-RxZ2rL/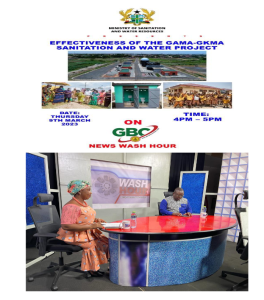 The PCU has engaged all Social Media Managers of GKMA Assemblies to ensure that their
various Assemblies platforms become active channels for the promotion of household toilets to
the vast number of followers via social media campaigns.